---
Magicality!
Sun, Nov 20 2022
We had a wonderful time performing at our first self-produced show in over 2 years! It was GREAT to be back entertaining a sold out crowd with our unique style of a Capella harmony. We were honored to have special guest Rosie Hua. Our very own Dr. Sally Kelly also as well as our two quartets, SLQ and In a Chord.

---
Chorus competition at Harmony Heartland Region 4
Sat, Apr 2 2022
We had a blast with our fellow Region 4 choruses and quartets. AND we brought home some medals! Here's a recording of our award winning performance. We placed 2nd in the small chorus division and 5th overall. We're so glad to be back in our normal chorus mode and are more than ready to start working on next year's contest songs!
https://youtu.be/84l17T_gRn4
---
Friends & Family/Chorus send-off
Tue, Mar 29 2022
It was fun to perform for our Friends and Family again to show them how hard we've been working on our contest songs. We chose to wear our plaid shirts that we would have worn for the 2020 competition that was canceled.

---
Women of Song at Ball State
Tue, Mar 22 2022
It was so much fun to be back on stage again! We shared that stage with Vox Anima from Ball State and Voila Voce from Anderson College. Both choirs were wonderful and we loved singing with them. The audience was fantastic, such a great feeling to be in performance mode!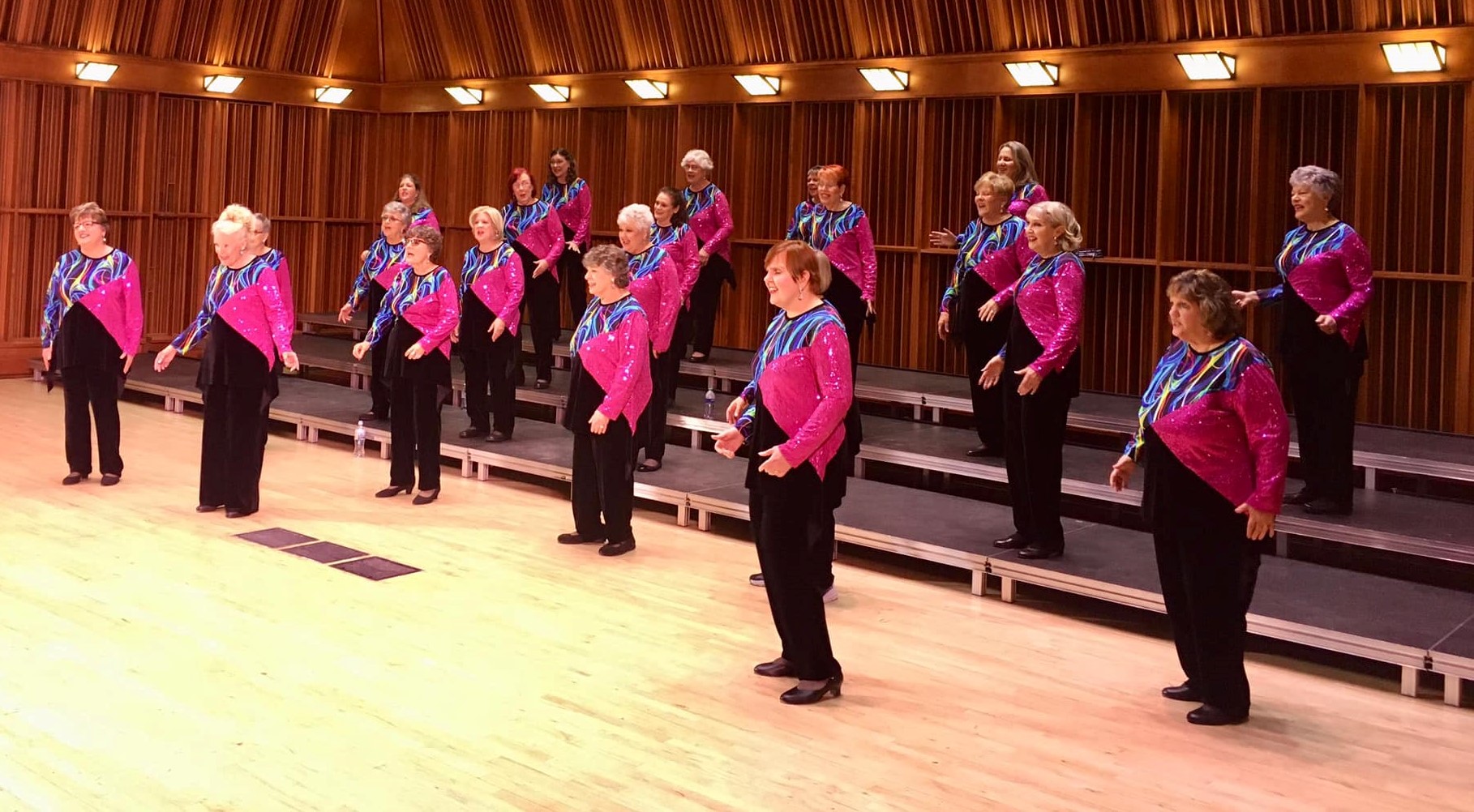 ---
Christmas Chorus 2021
Sat, Nov 27 2021
Christmas didn't slip by this year without our Christmas Chorus getting out to spread some holiday cheer. It was great to ba able to do that again! We sang at the Michael Kors store at the Fashion center, at Shop Local in downtown Noblesville, Nobelsville First Friday at the Nickel Plate Arts center and at several Sr Livingin facilities. So good to be out performing in public again!
---
Penrod 2021
Sat, Sep 11 2021
We were thrilled to be back at Penrod this year after 2 years! The weather was perfect and we loved singing to the croud walking by. Lots of patrons stopped by to chat and several took information about our upcoming guest night.
---
Cookies and Carols
Sun, Dec 15 2019
Our Christmas Show was a big success. We had a wonderful audience with lots of kids to enjoy Frosty, Rudolf and Santa. The bake sale was a big success with some items selling out before the show started! Thanks to everyone who came to help us spread joy during the holiday season!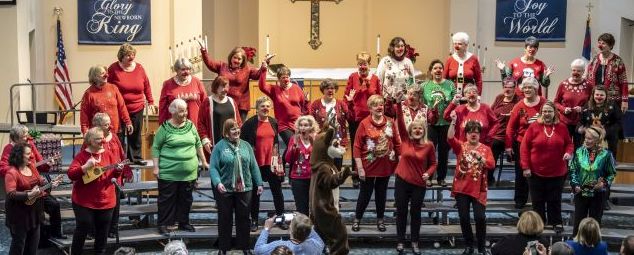 ---
Annual Show - Harmony Homecoming
Sat, May 11 2019
We had an amazing time performing for a packed house audiance. It was so much fun to sing songs that would have been heard at Homecoming dances from our pasts. Thanks to One Voice Chorus for being our very special performing guest chorus.
---
Harmony Heartland Region 4 Competition
Thu, Apr 4 2019 to Sat, Apr 6 2019
Harmony Heartland Region 4 held it's annual competition in Covington, KY. One of our quartets, Cameo, placed 6th. Their performance was inspiring and the audience loved them. Our chorus performed in the open division, which means that we performed a 10 minute set. We were not competing for a chance to go to International competition. But we did receive an evaluation from the judges on one song and our overall package. Our judges comments were very complimentary with good suggestions for improvement. You can see this performance on our 'Have A Listen" page on this website.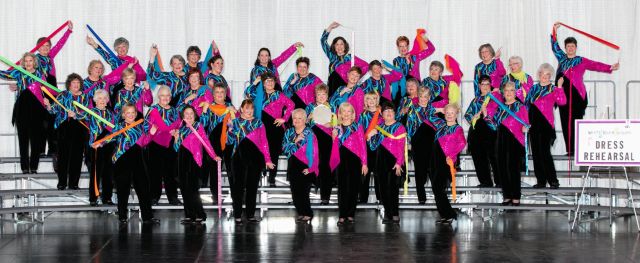 ---
Friends and Family Show
Sat, Mar 30 2019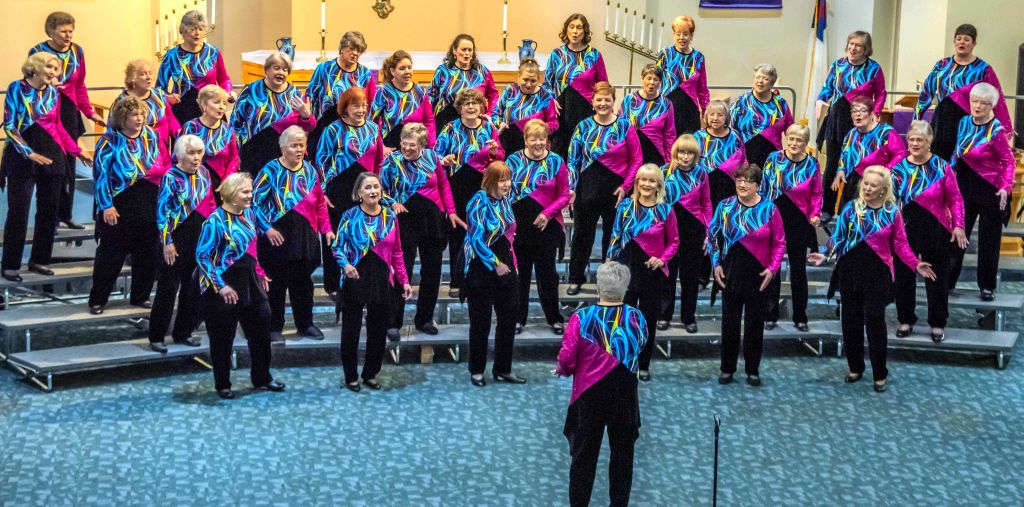 Our annual Friends and Family Show was held on March 30th at Trinity Lutheran, our rehearsal home. Every year we thank those who support our musical hobby by treating them to a performance of our competition package. We perform our complete package just as we will do at competition in our full make-up and costumes. This show gives them a chance to see the results of the hours their loved ones spend learning music and choreo and countless rehearsal hours to polish our performance. Cameo also performed their competition set. We ended the performance by singing a few of our favorite songs that are not part of our package, then we treat our audience to homemade cookies. It was a fun afternoon for everyone there!
---
Christmas Chorus Performances
Sat, Dec 1 2018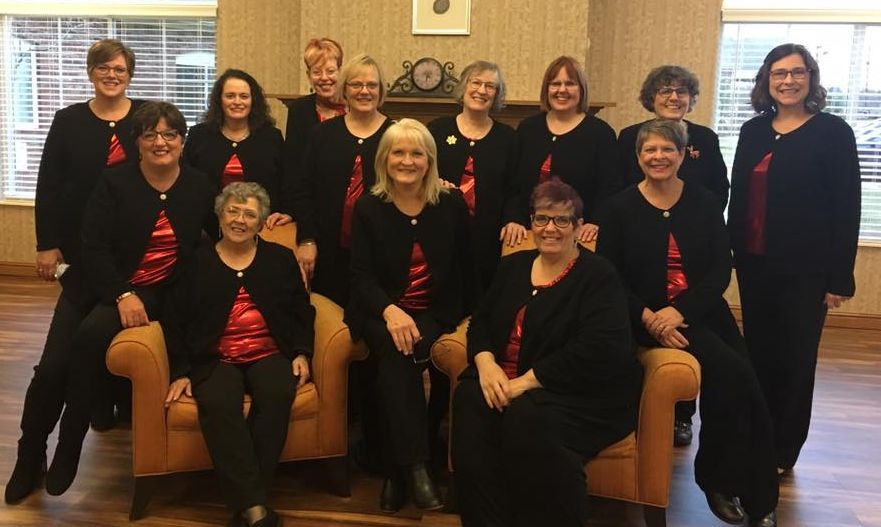 Our Christmas Chorus ensemble visited three different Sr Living facilities to spread our Christmas cheer. We spent several hours walking the halls, stopping to sing a few songs for residents who weren't able to leave their rooms. We also performed sets in dining rooms and multi-purpose rooms where residents gathered to listen. Our favorite part of these performances is singing in the memory care units. Most of the time they are distant and and nonresponsive when we first arrive. But by the time our set is finished, they are smiling and often singing along with us. It is always heart warming and gratifying to see the smiles on their faces as they recognize these old melodies.
---
Nickel Plate Express Reindeer Ride
Sun, Nov 25 2018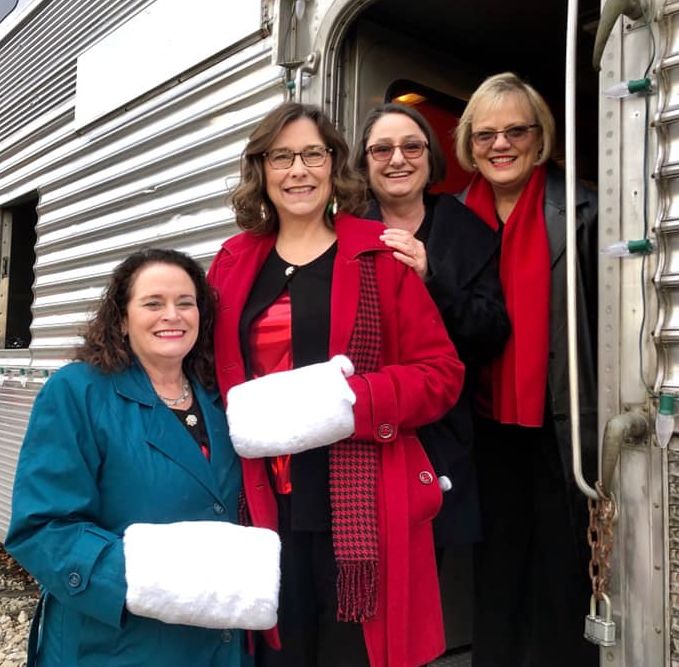 3 Hollies and a Bari serenaded passengers on Nickel Plate Expresses Reindeer Ride. This quartet was formed from our Christmas Chorus to provide holiday entertainment on the train. The close quarters made it impossible to use the entire Christmas Chorus, but this quartet was just the right size to sing in the aisle as the riders enjoyed this fun ride. We even had some audience participation with our jingle bells! This was so much fun and we can't wait for our next opportunity to ride the rails with Nickel Plate Express!
---
Vineyard Vines Shopping Event
Thu, Nov 8 2018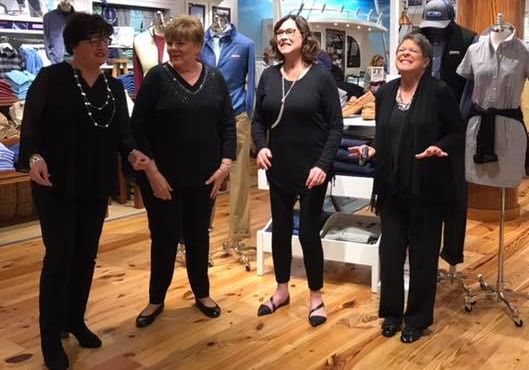 SLQ, our wonderful quartet made up of our section leaders, performed for 2 hours seranading shoppers at the Vineyard Vines store in the Fashion Mall. It was a wonderful evening of shopping and harmony!