---

2022 Director's Choice Award
Awarded to Maggy Kantz
Maggy Kantz was presented with our Director's Choice award by Dr Sally Kelley. During the presentation Sally noted that she could always count on Maggy to be one of the first members off the paper on a new song. She also learns her choreography early and works hard at perfecting both her moves and her voice accuracy. When Sally is ready to direct she can always count on Maggy to be in place and ready to perform. She sets a very good example to fellow members on what it means to take personal accountability for her performance!
---

2022 Sweet Adeline of the Year
Awarded to Sue Pelley
We are pleased to announce that Sue Pelley has been awarded our SAOTY award for 2022! Sue has been a very integral part of our chorus for quite some time. She has served on just about every office of our board including serving as President for 10 years! She has also been our bass section leader for several years. Sue is so very supportive of every member of our chorus. Her friendly smile is always a welcoming site at rehearsals. She goes out of her way to make each and every member feel important and works hard to make everyone feel included. She willingly shares her musical knowledge and talents helping others perform at their best level. While she served as President she was not eligible for this award - so her selection has been a very long time in the making!
---
Harmony Heartland Region 4, 2nd place Division A, 5th place Overall
Awarded to
White River Sound placed 2nd in Division AA and 5th place Overall at the HHR4 convention in April 2022. We sang I Will Love You Til The End Of Time and The Moment I Saw Your Eyes. It was awesome being back on stage after the pandemic caused a 2 year hiatus of our regional convention!

---

2021 Sweet Adeline of the Year
Awarded to Karla Kurzweil
In a year like no other, our SAOTY award goes to a member like no other, Karla Kurzweil! Karla spends an exhausting amount of time helping steward our chorus through many challenges and helps keep us moving in the right direction - no matter what. She has been instrumental for several years to our grant applications and awards. She now also manages our lucrative scrip program and has managed more successful chorus shows than we can list. Karla has been a critical force to many of our fund raising campaigns which have helped us keep concentrating on what we do best - making beautiful harmony. Besides all that she has also spent a considerable amount of time putting together Zoom parties to help us stay in touch, relax and have fun during a time that has brought extreme stress to the lives of our members. She has been a force that just keeps going this year and we can't imagine how much more devasting a year in a pandemic would have been without her.
---

2020 Director's Choice Award
Awarded to Mary Lou Hayes
Mary Lou Hayes was awarded the Director's Choice Award by our director, Debbie Thistle, at our Installation and Year End Celebration. While Mary Lou is a fairly new member to our chorus family, she has quickly become one our biggest cheerleaders! She comes to rehearsals with lots of love and joy for everyone and always provides uplifting support to members who need it, often without fanfare. She took over our role as Sunshine Chair and sends out hundreds of cards and notes to members throughout the year. She is a living demonstration of how chorus members can improve the lives of their fellow singers! Congratulations, Mary Lou - this award is very well deserved!
---

2020 Sweet Adeline of the Year
Awarded to Susie Davis
Our membership selected Susie Davis as this year's Sweet Adeline of the Year. Although Susie was in Wyoming for our Installation and Year End Celebration, we were able to present her with this award since the pandemic forced us into a virtual celebration. With a little help from her husband, she was presented with her trophy and necklace as her award was announced on Zoom! Susie has gone above and beyond this year as our Performance Manager. She utlitized her network of contacts developed through many years of being active in Hamilton and Marion county organizations and managed to keep us quite busy around the holidays with more performances that we've ever fit into a quarter!! Her directions and attention to every detail helped keep everyone on track and ontime at all these performance. She was in the finishing stages of organizing our first Girl Scout workshop when the pandemic shut everything down. That event will have to wait, but she has already laid the ground work to get it up and running quickly when it's safe to gather once more. Susie is also a very positive influence at rehearsals, encouraging everyone to always give their best effort. Thanks you, Susie, for all you do for WRS!!
---
2019 Sweet Adeline of the Year
Awarded to Leslie Casey
Congratulations to Leslie for being awarded Sweet Adeline of the Year. Leslie demonstrates the meaning of Personal Responsibility by usually being the first member off the paper on a new song, always volunteering to help with committees and taking on new roles and responsibilities. She has helped run various social gatherings and fund raisers, been on the riser team, assisted with Purse Bingo and has been in charge of the raffle for our show. She brought in several new sponsors who donated items for our raffle and worked hard to make sure this was a profitable fund raiser. She helps new members become acclamated to chorus life. This year she took over the daunting role of travel coordinator and handled all our travel arrangements with no issues. She always greets everyone with a smile and works hard to make our chorus run smoothly.
---
2018 Sweet Adeline of the Year
Awarded to
Congratulations to Pam for winning our Sweet Adeline of the Year award at our annual Installation Dinner. Pam is a long time member who has served our chorus in many capacities. She is currently Assistant Director as well as Lead Section Leader. She is an inspiring force for our membership encouraging both long time and new members to keep learning and always perform at our highest level.
---
2018 Director's Choice Award
Awarded to Susie Fintz
Our Director, Deb Thistle, chose Susie Fintz to receive our 2018 Director's Choice Award. Susie puts enormous effort behind the scene to make sure our chorus adminstration runs smoothly. She serves as Vice President of the board, handles our travel arrangments, and also chairs our very successful Purse Bingo fund raiser. She assists with mentoring new members and sets a good example of personal commitment to learning music and choreography quickly and accurately.
---
2017 Harmony Heartland Region 4 Competition 5th place
Awarded to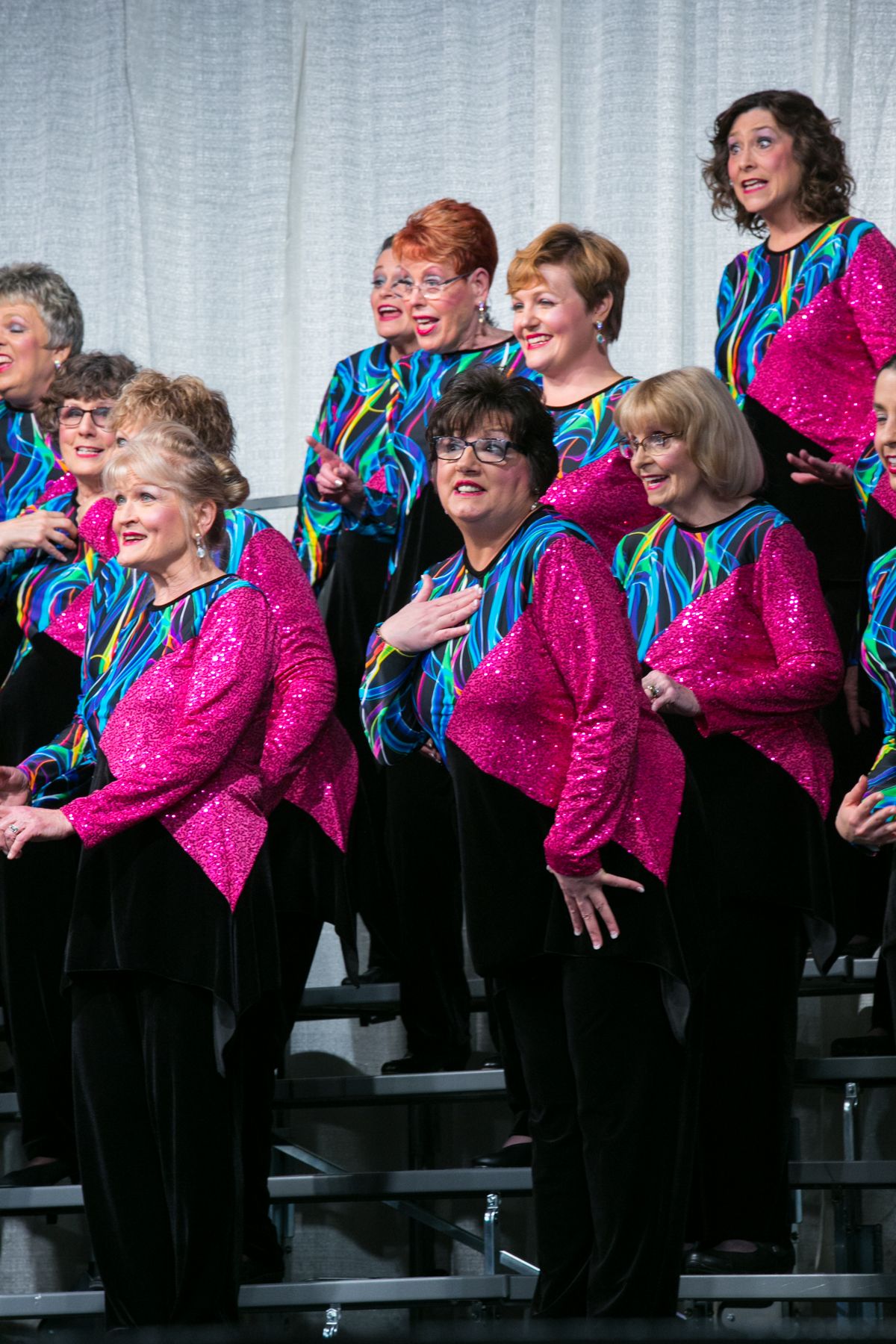 Our chorus placed 5th out of 18 at our Regional Competition. We are very proud of our performance and happy that all our coaching and hard work paid off!